SUZUKI PROTECTION PLAN
Suzuki Protection Plan is a comprehensive plan that covers all major components, parts and electrical/computer systems on your Suzuki Motorcycle or ATV. Only normal wear or maintenance items are not covered. We've built Suzuki Protection Plan around coverage, not exclusions.
THE APEX PREDATOR
Hear the wild induction roar strike your soul. Feel genuine GSX-R power stir your spirit. Own the apex of every corner. Powered by a legendary supersport engine. Armed with the latest technologies. Tuned to command the streets. Built to reign supreme over naked sport bikes. The GSX-S750 is a true apex predator.
CAREFULLY SCULPTED BODYWORK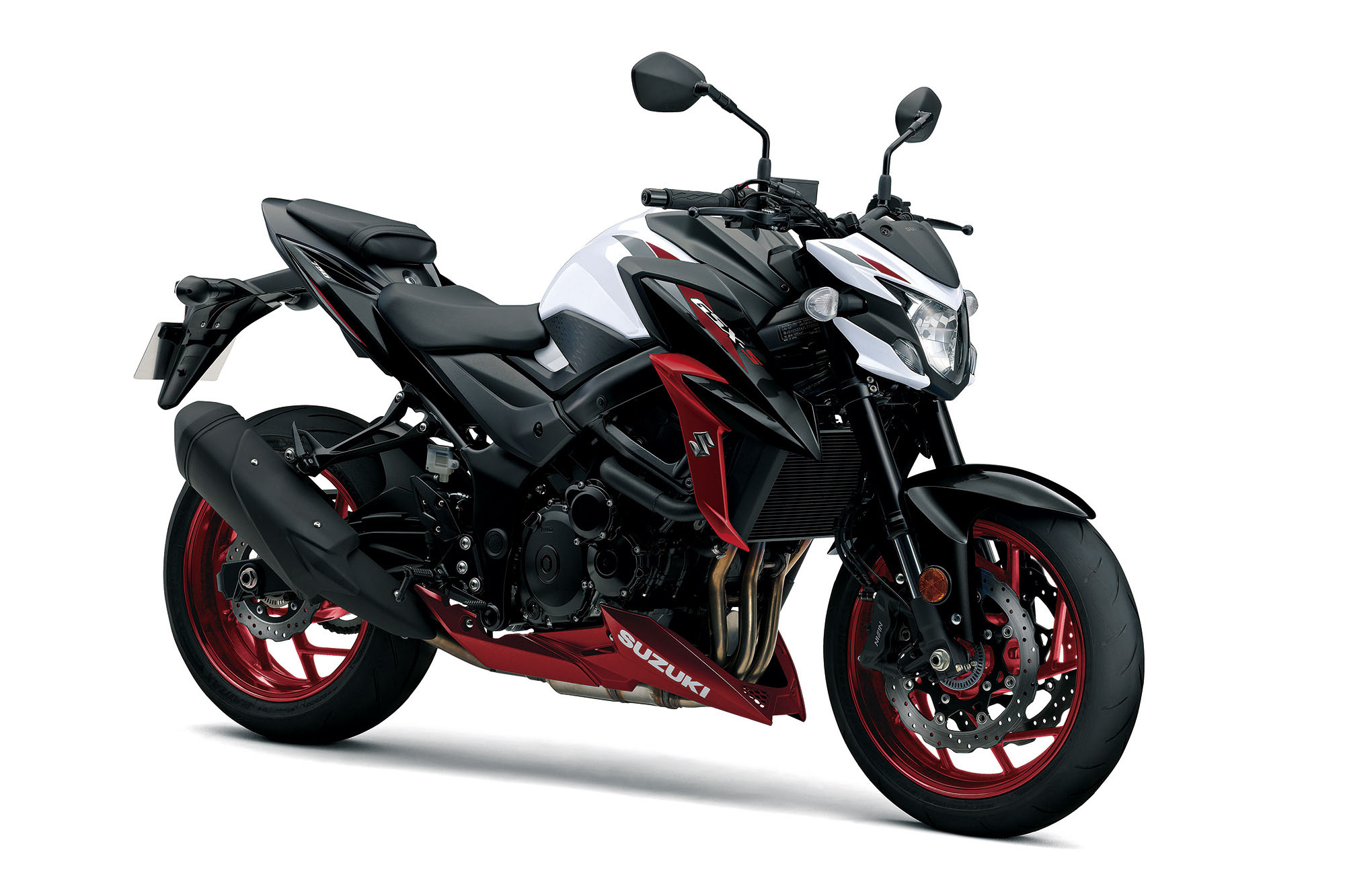 Highlights include the powerful lines of the chiselled fuel tank, vented front fender, light rear fender, moulded mirrors, and angular tail section with an integrated LED taillight, clear turn signals, and clean layout of all wiring and hoses. The thin seat is shaped for sport riding, and also to helps make it easier to firmly plant your feet on the ground and combines with the handlebars and footpegs to ensure a comfortable riding position.
HIGHLIGHTS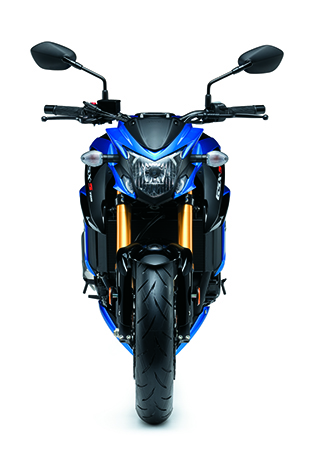 This predator adopts its aggressive-looking headlight design and fang-shaped position lights directly from the GSX-S1000.
TAPERED HANDLEBARS
Combined with black levers and a switch design, they enhance the looks of an area that often falls within the rider's field of vision.
BELLY PAN
The GSX-S750 shares the same aluminum footpegs used on the GSX-S1000. Both lightweight and sporty, their black coloring makes them blend in naturally with the machine to create a cool look.
ENGINE DESIGN
Potent 749cc four-cylinder, fuel-injected engine uses GSX-R750 architecture, so the power delivery is an excellent blend of strong low end and a muscular top end. Using the K5 generation GSX-R engine architecture also permits a shorter chassis, which greatly enhances handling. This also makes the GSX-S750 ABS the only motorcycle in its class with an engine with SuperSport lineage.
CRANKCASE VENTILATION HOLES
Ventilation holes between the pistons on the upper crankcase reduce pumping loss. This contributes to increasing power output while at the same time satisfying the stringent Euro 4 emissions regulations.
LONG-NOSED FUEL INJECTORS
Long-nosed ten-hole fuel injectors introduced on each throttle body optimize fuel atomization to promote greater combustion efficiency and help limit fuel consumption.
SOUND TUNING
The GSX-S750 adopts a air box that draws air in from three optimized inlets. The resulting intake sound is music to the ears when accelerating.
FINAL GEAR RATIO OPTIMIZED FOR POSITIVE ACCELERATION
The GSX-S750 adopts a shorter final gear ratio that helps maximize acceleration, while sixth gear retains a ratio that does not compromise top speed.
GREAT POWER, GREAT EFFICIENCY
Greater power with fewer emissions – the best of both worldsThe GSX-S750 boosts the power output of its street-tuned engine over its predecessor, even while making advances that satisfy stringent emissions regulations and achieve a class-leading level of fuel efficiency.
THREE-MODE TRACTION CONTROL SYSTEM
Suzuki's Advanced Traction Control System* lets the GSX-S750 ABS rider control the throttle with more confidence in various riding conditions. As a result, the rider can enjoy sport riding with less anxiety. There are four traction control modes (1, 2, 3, and OFF) that the rider can easily adjust at rest or on the fly via a handlebar-mounted control. The difference between the modes are their sensitivity to road conditions.
Mode 1 is the lowest sensitivity level; most suitable for skilled riders or in conditions that have good road surface grip (sport riding on good, smooth roads).
Mode 2 is a moderate sensitivity level; suitable for most riders or in conditions that have varied road surface grip (city riding, regular road conditions).
Mode 3 is the highest sensitivity level; suitable for road conditions where the grip may be limited (wet or cold surfaces).
OFF disengages all traction control features.
FULL LCD INSTRUMENTATION
The GSX-S750 features a lightweight, brightness-adjustable LCD instrument panel. Readouts include the speedometer, tachometer, traction control mode status, gear position, odometer, dual tripmeters, coolant temperatures, driving range, fuel consumption, and a clock. You can personalize the tachometer readout from a choice of five display patterns.
KYB INVERTED FRONT FORKS
Inverted front forks featuring 41mm stanchion tubes and bold-looking anodized upper tubes provide a sporty ride that is also smooth and comfortable. Spring preload can be adjusted to match the conditions and your riding preferences.
VARIANT CROSS-SECTION SWINGARM
With tapered lines that speak of performance and sporty good looks, this swingarm design is a perfect fit for the GSX-S750. It also features a clean and stylish chain adjuster.
RADIAL MOUNTED FOUR-PISTON OPPOSED FRONT CALIPERS
The radial mount design provides a positive feeling when applying the brakes and maximizes braking control. Each of the front calipers has four opposed pistons (33.9mm x 2 & 30.2mm x 2) acting on a 310mm floating-mount disc to provide plenty of stopping power when you need it.