SUZUKI PROTECTION PLAN
Suzuki Protection Plan is a comprehensive plan that covers all major components, parts and electrical/computer systems along with all seals and gaskets and shocks on your Suzuki Motorcycle or ATV. Only normal wear or maintenance items are not covered. We've built Suzuki Protection Plan around coverage, not exclusions.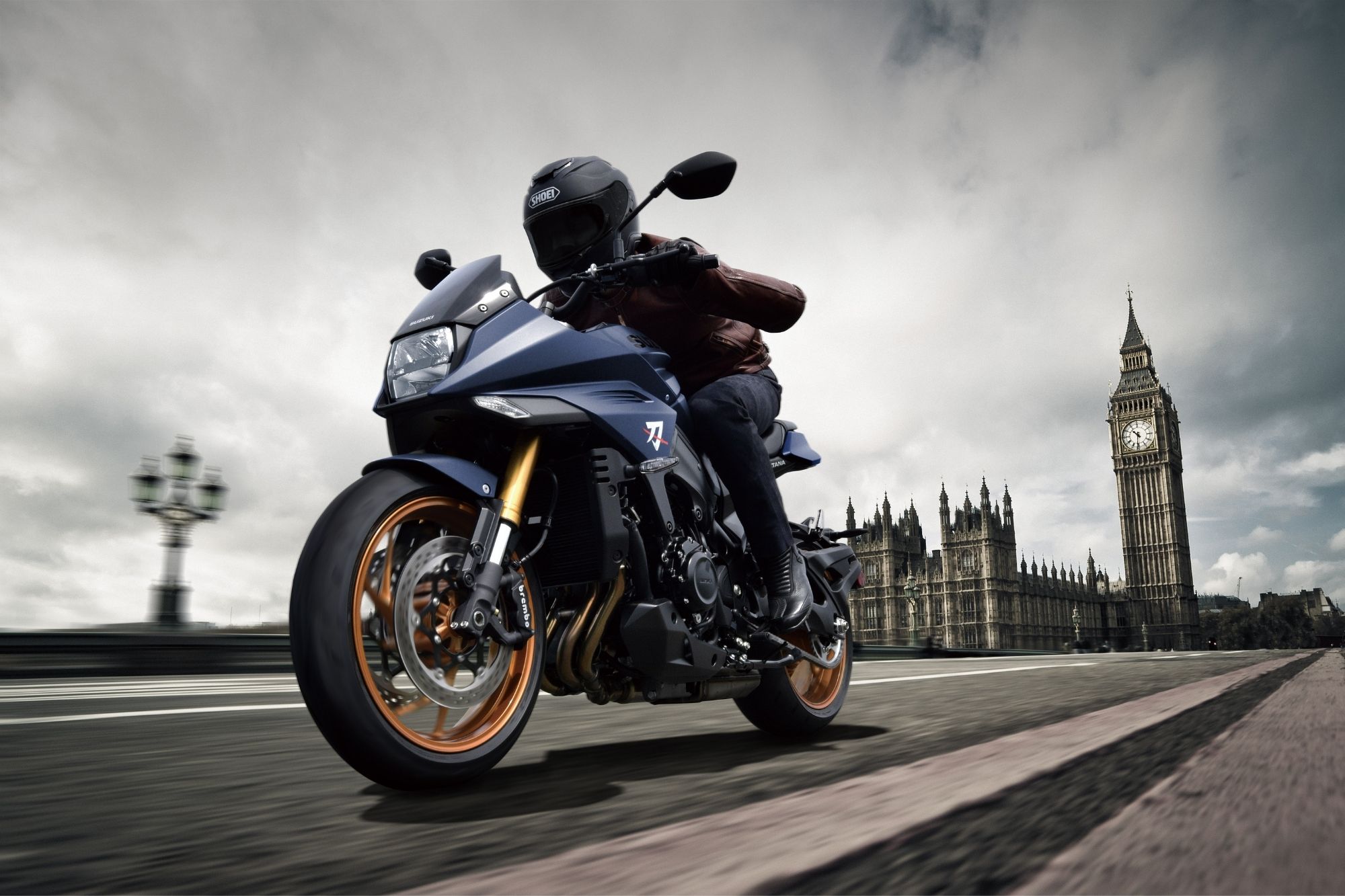 CRAFTSMANSHIP
The Japanese Katana is beautiful to gaze upon and unbelievably exciting to wield. The epitome of fine craftsmanship, this famed sword combines sophisticated Japanese aesthetics and pure beauty into a sharp design. These characteristics made it the perfect motif for the Suzuki KATANA. The KATANA also symbolizes well Suzuki's uncompromising commitment to craftsmanship. Suzuki's dedication to creating distinctive beauty includes paying due respect to tradition while at the same time aiming to incorporate the latest advances in styling and technology. Built to delight and polished to perfection, the Suzuki KATANA is ready to forge the path to a new era of riding excitement.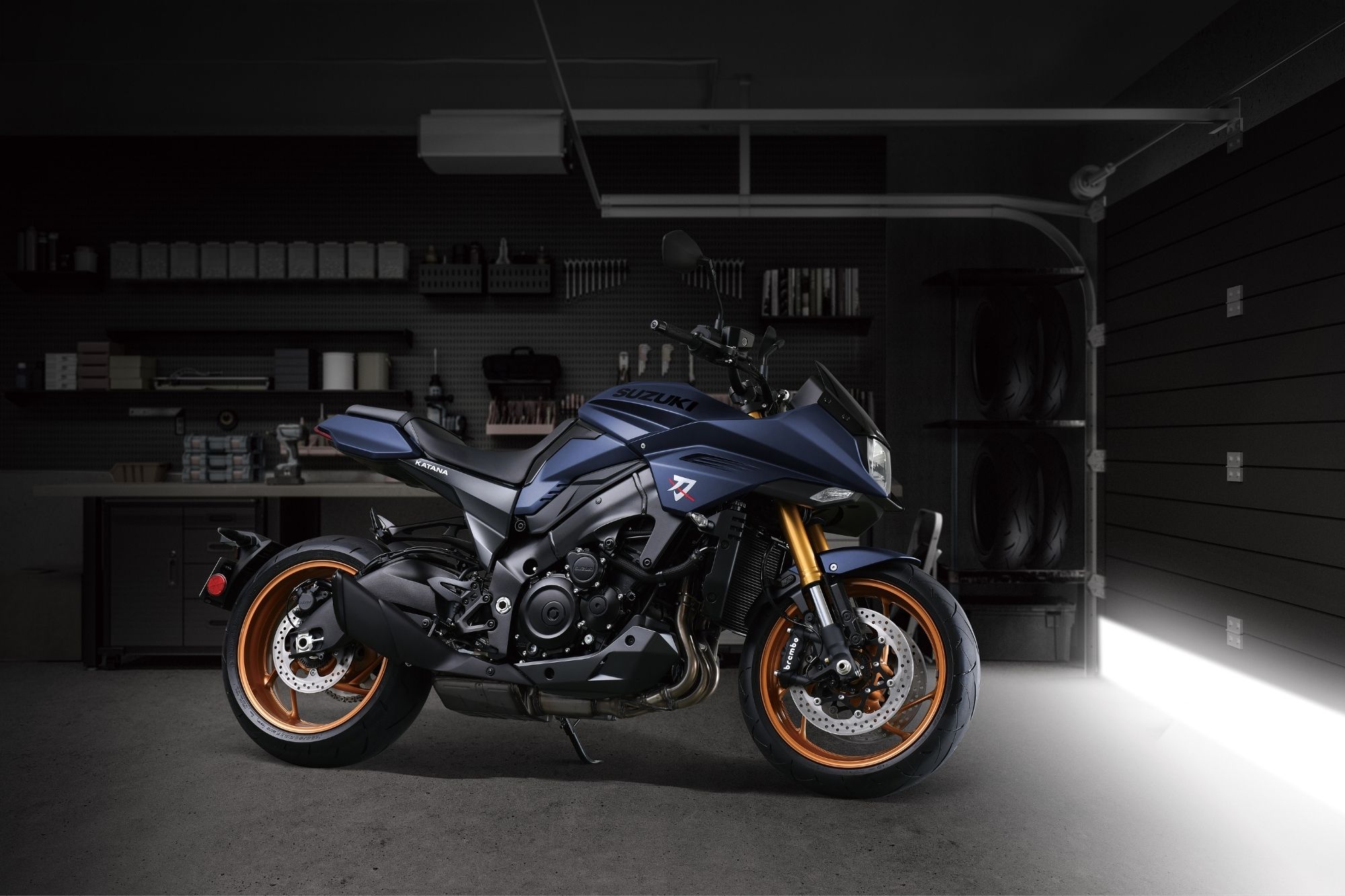 A CUT ABOVE IN DESIGN
The Katana is faithfully inherits styling from the original, yet features updates such as a new body colour and decorative trim. The exciting new design features a sharp front end with LED light and LED position lights, a taut-looking rear end with rear fender and license plate holder extending from the swingarm, gold front forks, coordinated wheel colours and a two-tone seat.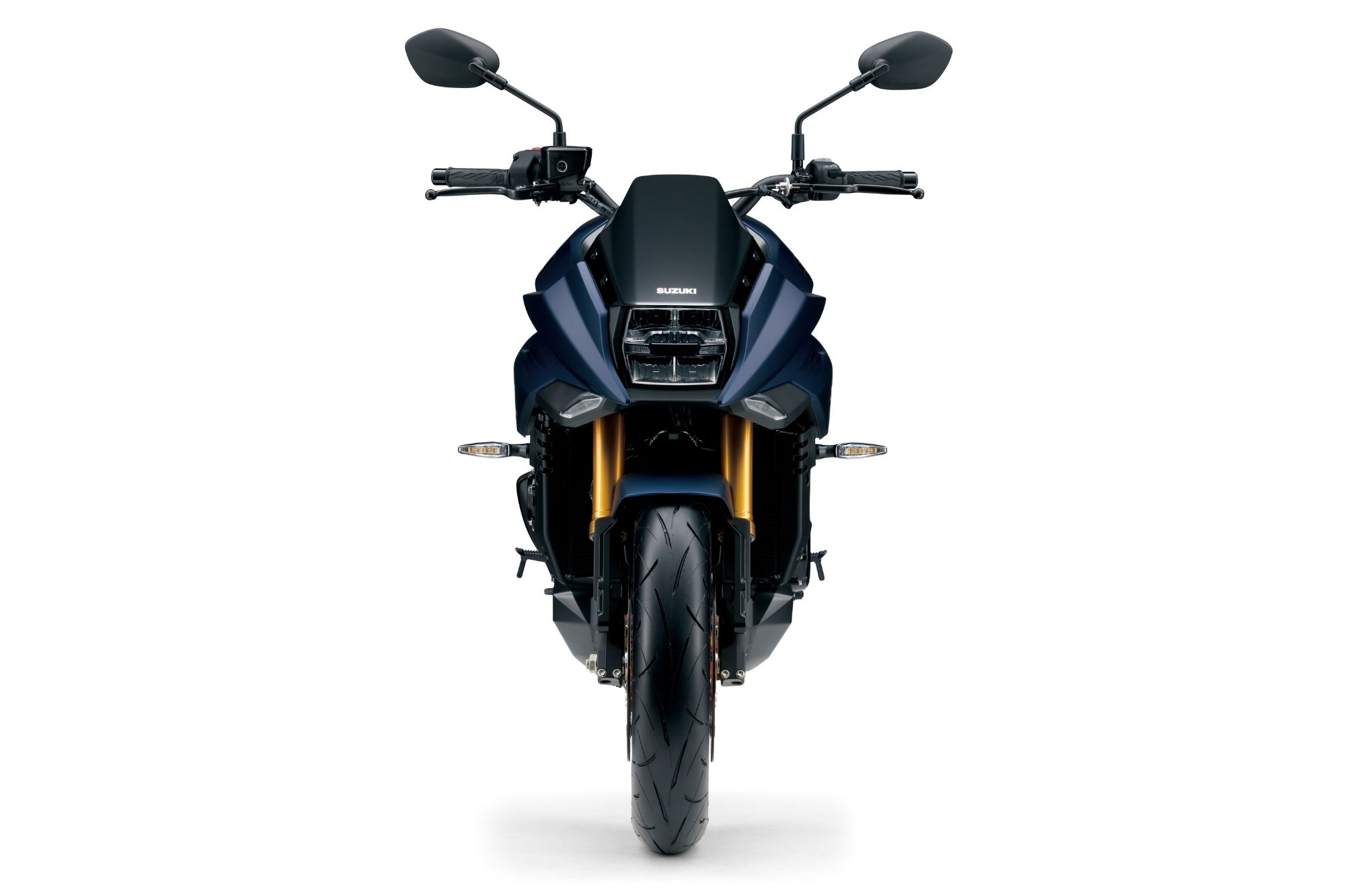 DISTINCTIVE HEADLIGHT AND POSITION LIGHTS
A new design featuring a vertically stacked LED headlight with a unique rectangular shape and LED front position lights accentuates the sharp look of the KATANA's face.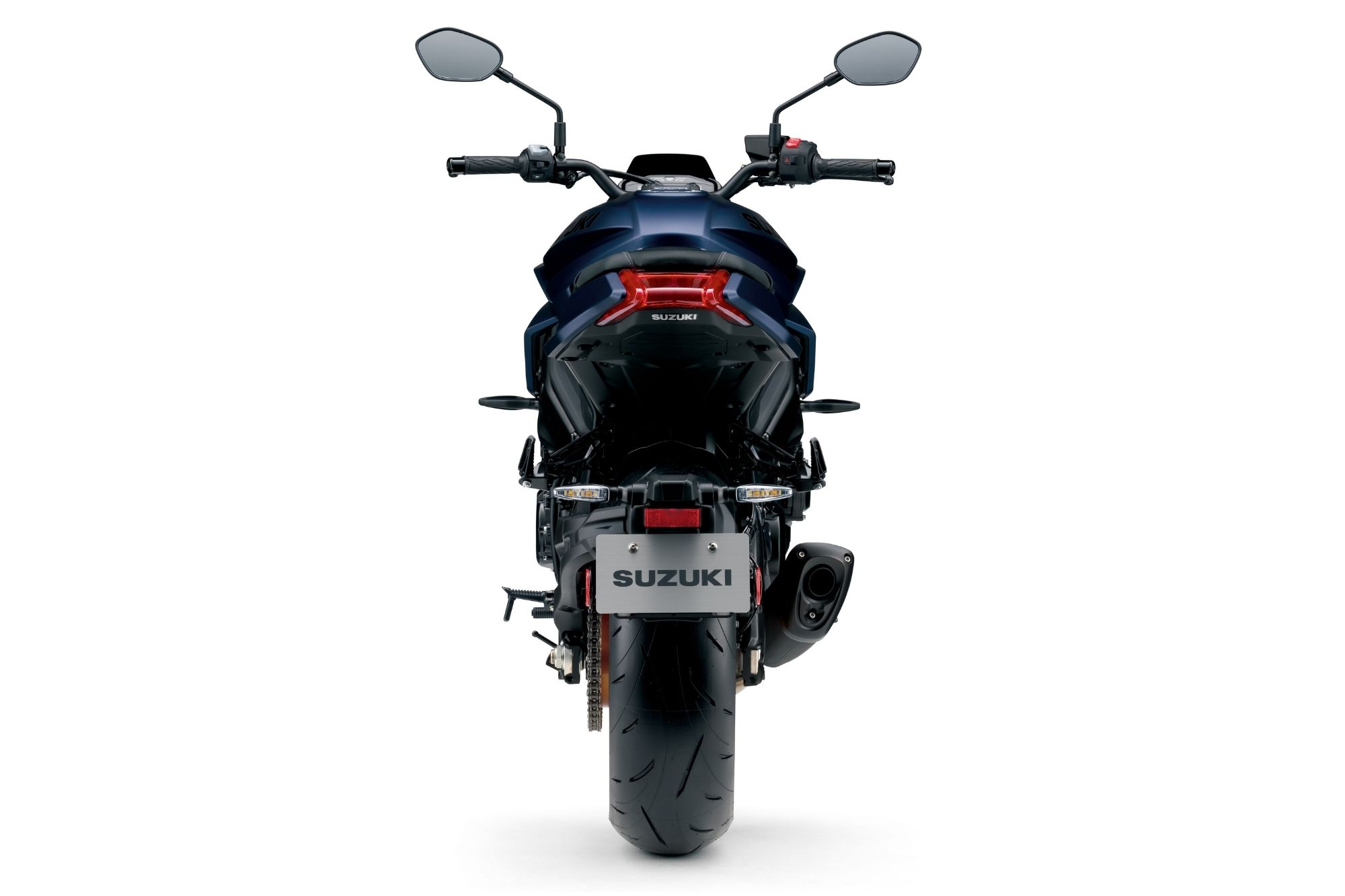 LED COMBINATION LIGHTS
The LED rear combination lights feature sharp lines and a unique lighting pattern that heighten the advanced look of the KATANA's styling.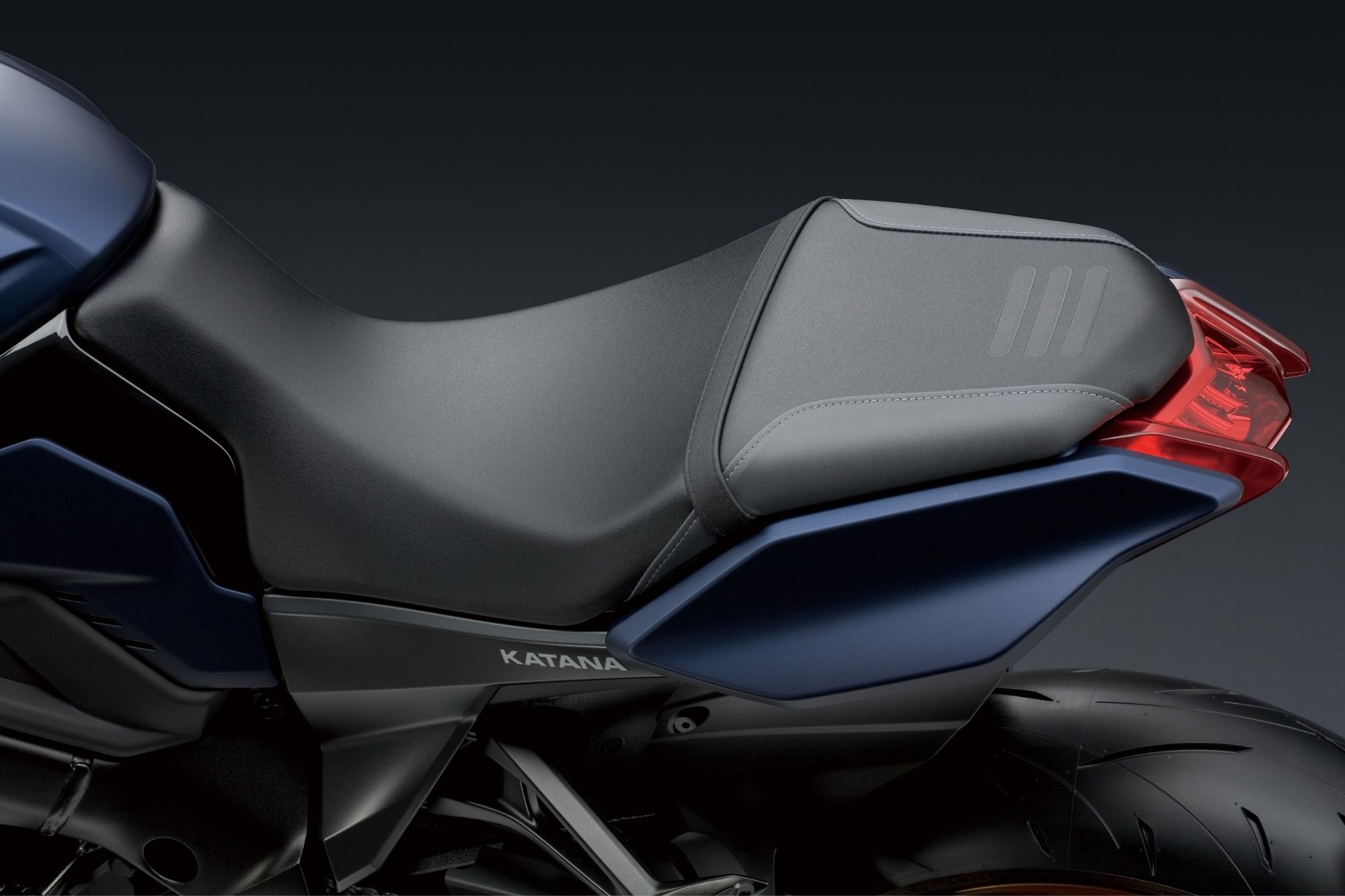 SLIM, COMFORTABLE SEATING
With a slim profile and seat height of 825mm Katana offers a comfortable seat height for riders to plant their feet on the ground when stopped.
The black and gray two-tone seat also features a stepped design for passenger comfort, offering positive footing and a convenient hand strap.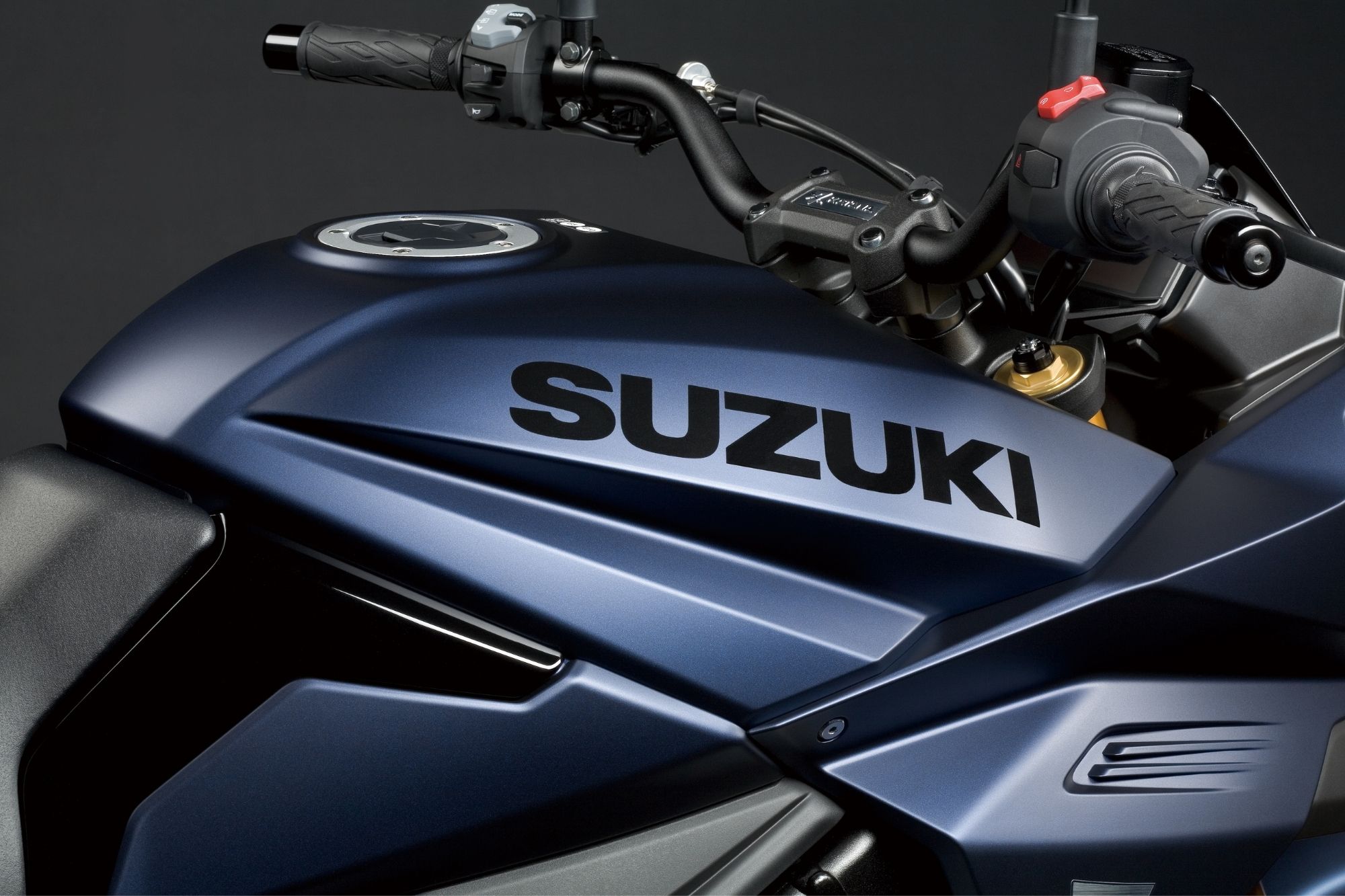 ENHANCED COMFORT AND AGILITY
Engineered for agility and ease of control in a variety of riding conditions, the chassis features a twin-spar aluminum alloy frame that inherits characteristics from the GSX-R1000.
The Katana features:
A comfortable upright riding position for easier control, reduced fatigue and maximum visibility
Fully adjustable, inverted front forks
Link-type rear suspension for a progressive feel and efficient reaction to changing road surface conditions
Brembo radial mount brake calipers and ABS*
6-spoke cast aluminum wheels and Dunlop Sportmax Roadsport 2 tires
Floating handlebars which reduce vibration transmitted to the riders hands for better comfort and reduced fatigue (NEW!)
*ABS is not designed to shorten braking distance. Please always ride at a safe speed for road and weather conditions and while cornering.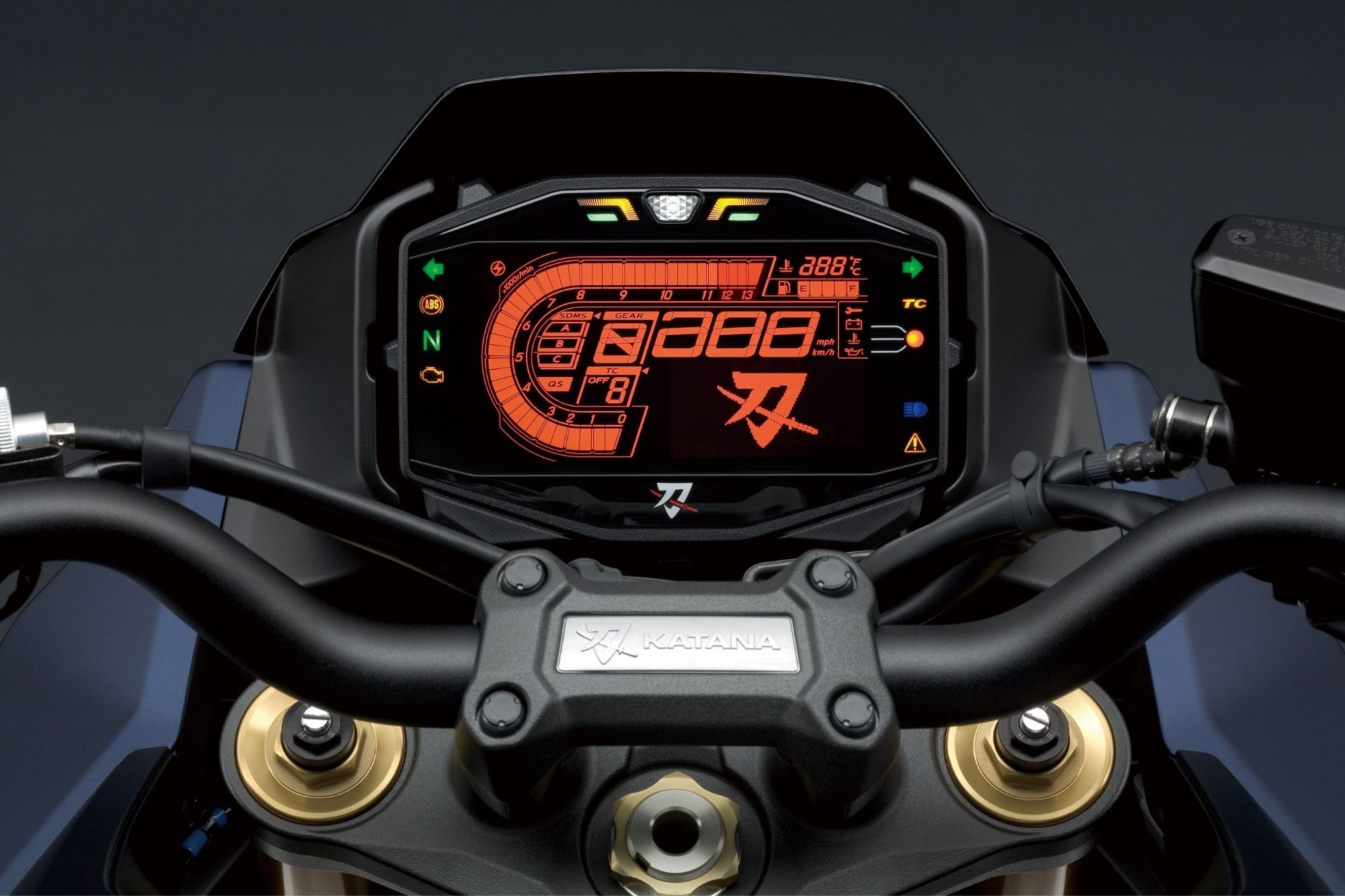 UPDATED MULTIFUNCTION INSTRUMENT CLUSTER
A full-LCD brightness-adjustable instrument cluster packs a wide range of useful information for the rider. This custom display offers white daytime illumination and a newly updated amber nighttime illumination for clear visibility any time of day.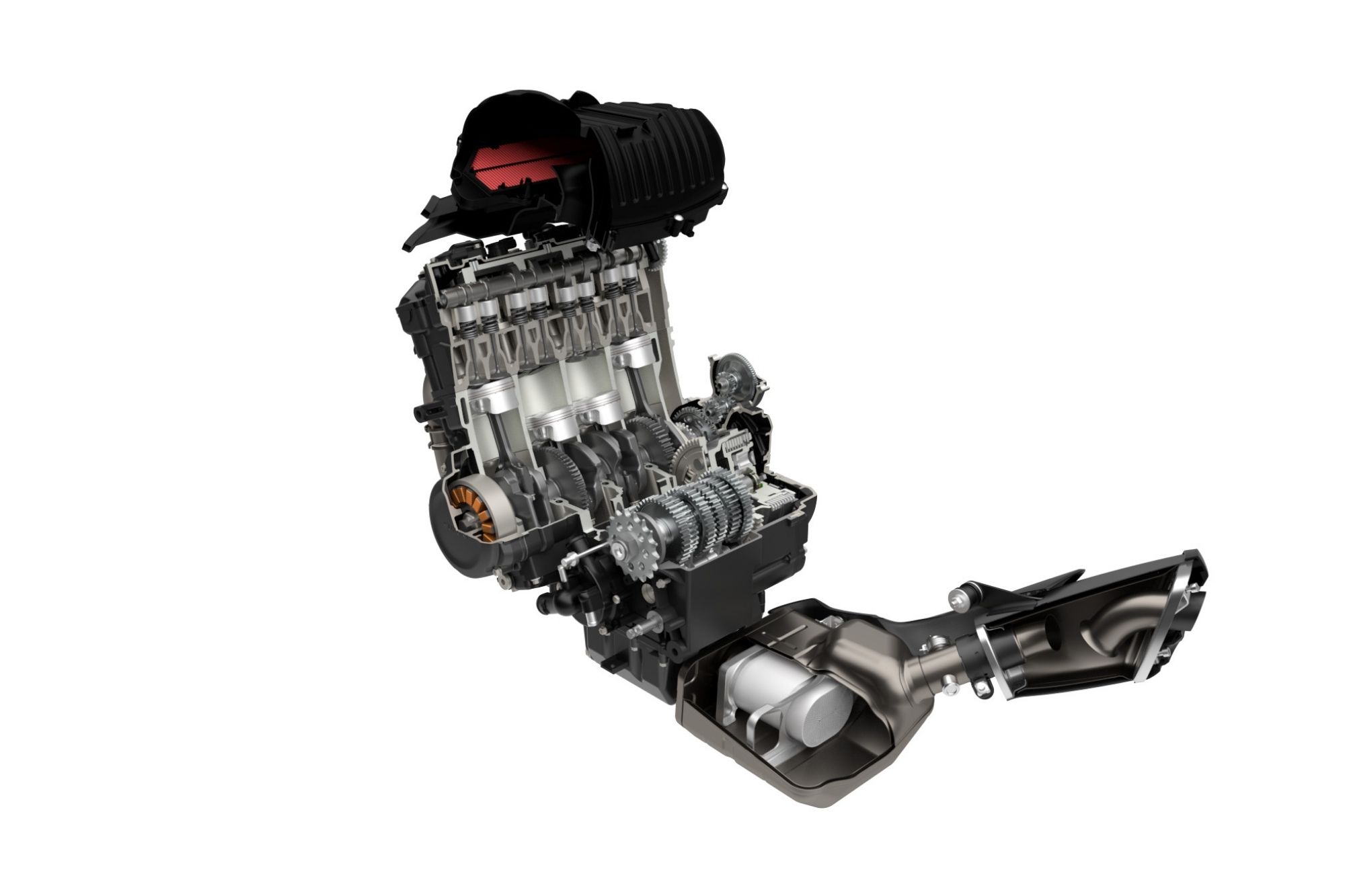 AN UPDATED ENGINE TUNED FOR PERFORMANCE
Japanese swordsmiths devote countless hours to repeatedly forging, hammering, folding and welding raw steel to achieve the right balance needed for the blade to perform optimally. This process is absolutely critical in achieving the desired result.
Fired by the same spirit, Suzuki's development team tested and tuned each component-time and again until they were satisfied the KATANA would deliver the optimal balance of power, comfort and control.
At the heart of the KATANA's powerful performance is a custom long-stroke version of the legendary fuel-injected 999cm3 inline-four engine that first proved itself on the MotoGP-winning GSX-R1000.
Updates for the 2022 model year include new camshaft profiles, new valve springs, a new clutch and new exhaust system, which further increases maximum power output and achieves a better overall balance of performance.
Not only does the new updated engine feature a broader, smoother, torque curve with fewer peaks and valleys, it also achieves greater overall cumulative torque production across its operating range. This brings a more satisfying feeling of immediate response and acceleration from low speed. It also demonstrates quicker response at mid-range and higher speeds, which leads to a more exhilarating and enjoyable riding experience.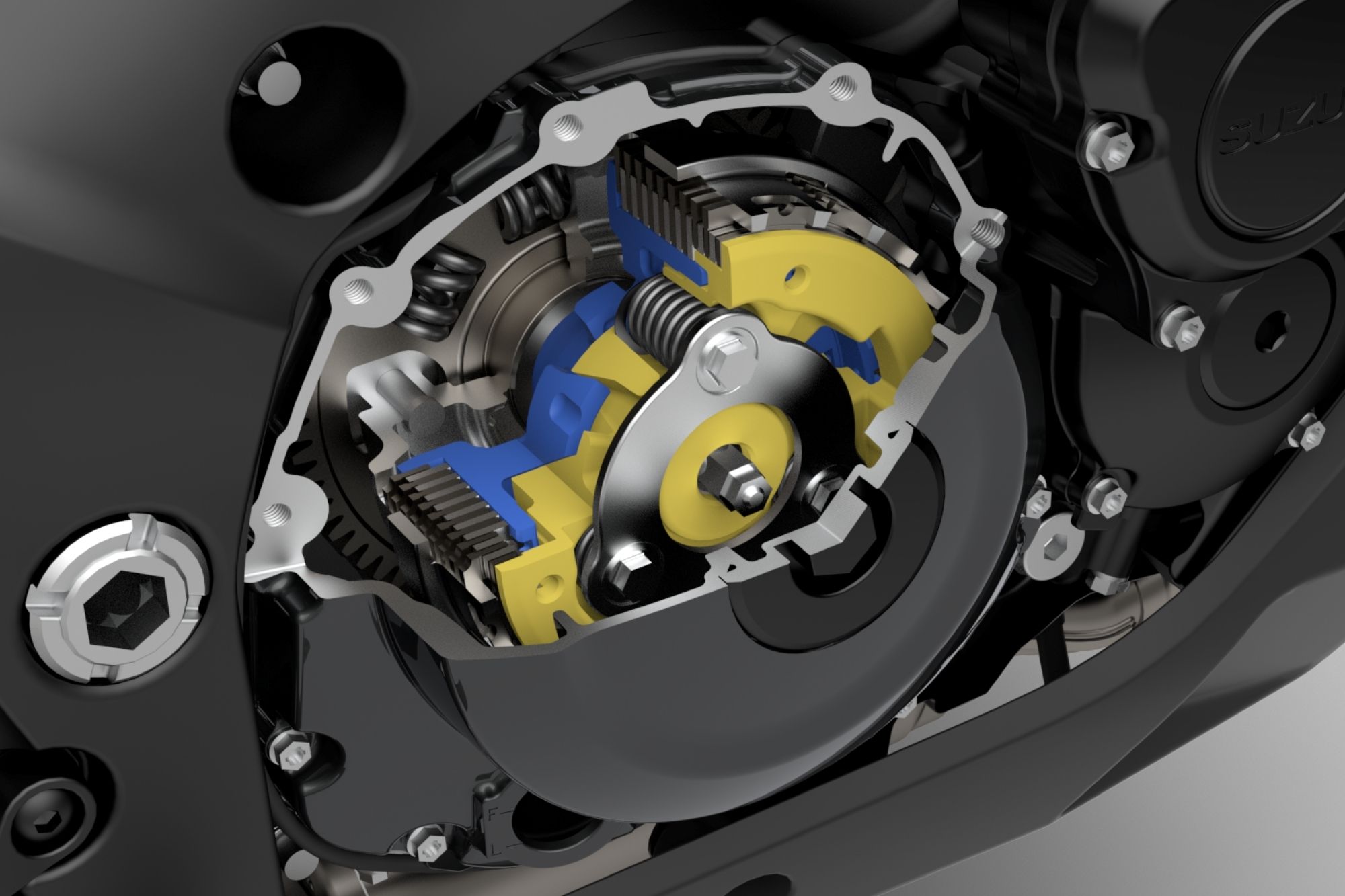 NEW SUZUKI CLUTCH ASSIST SYSTEM (SCAS)
The Suzuki Clutch Assist System (SCAS) for the 2022 KATANA introduces an assist function to complement the previous generation's slipper clutch.
The slipper clutch partially disengages when downshifting from high rpm to mitigate the effect of engine braking. By mitigating the chance of the rear tire locking up or hopping and working in harmony with the Bi-directional Quick Shift System to realize smoother deceleration, SCAS enables the rider to shift down with greater confidence and maintain better control when downshifting into corners.
The newly added assist function increases the clutch's clamping force under acceleration and thereby allows the use of softer springs while still efficiently transferring torque to the rear wheel. This cuts the amount of effort needed to operate the clutch lever by approximately 20%, so results in a light touch that reduces left hand fatigue when stuck in traffic jams, or in other situations that require frequent clutch lever operation.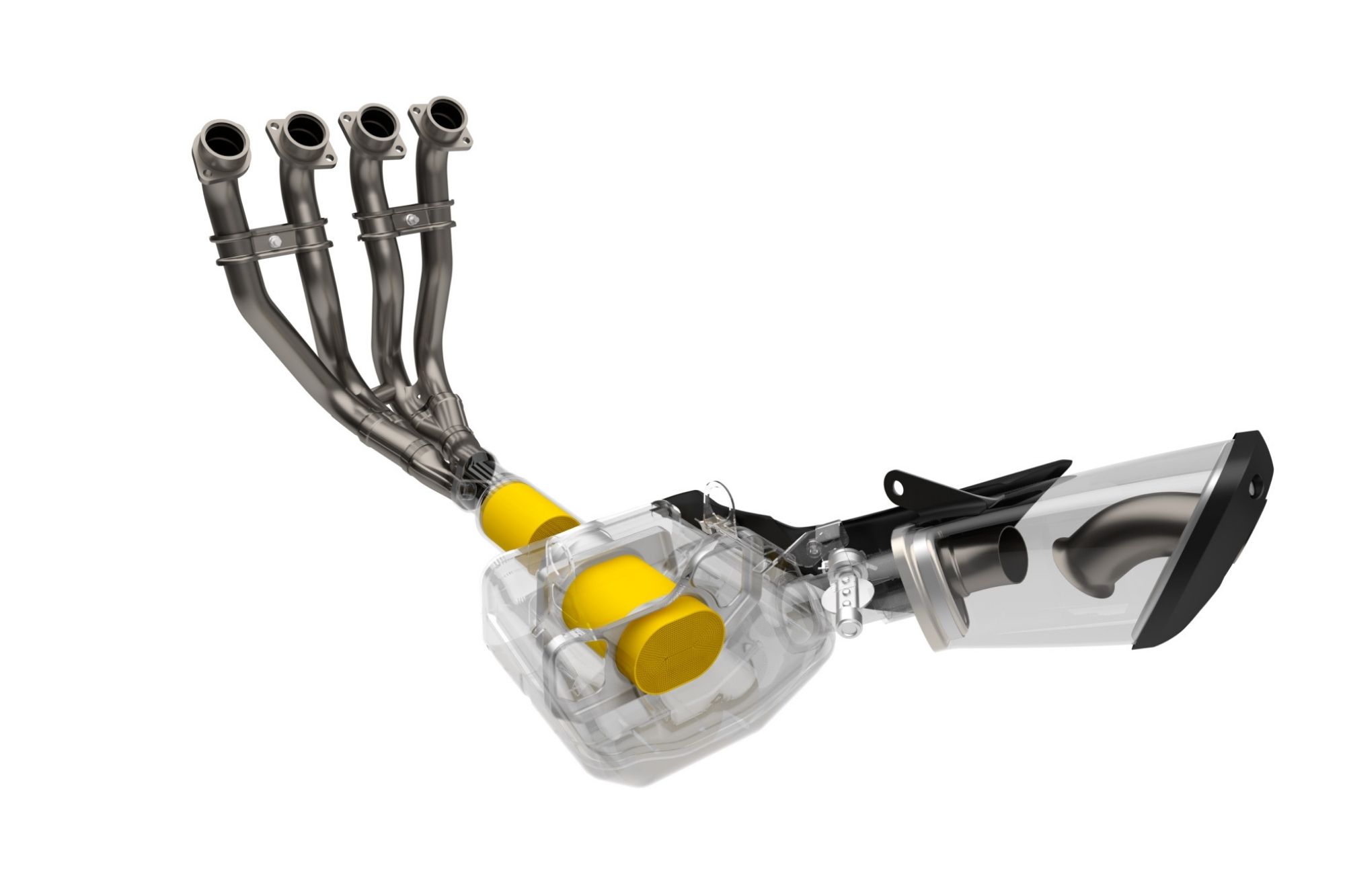 UPDATED EXHAUST SYSTE
The sporty 4-2-1 exhaust system for the 2022 Katana carries over the clean, sharp looks and luxurious note of its predecessor. Beneath the surface, it was completely redesigned and tuned to help deliver maximum overall performance and reduction of emissions. As an added benefit, the exhaust note for this updated system was tuned and optimized for a pleasing exhaust sound the instant the engine is started.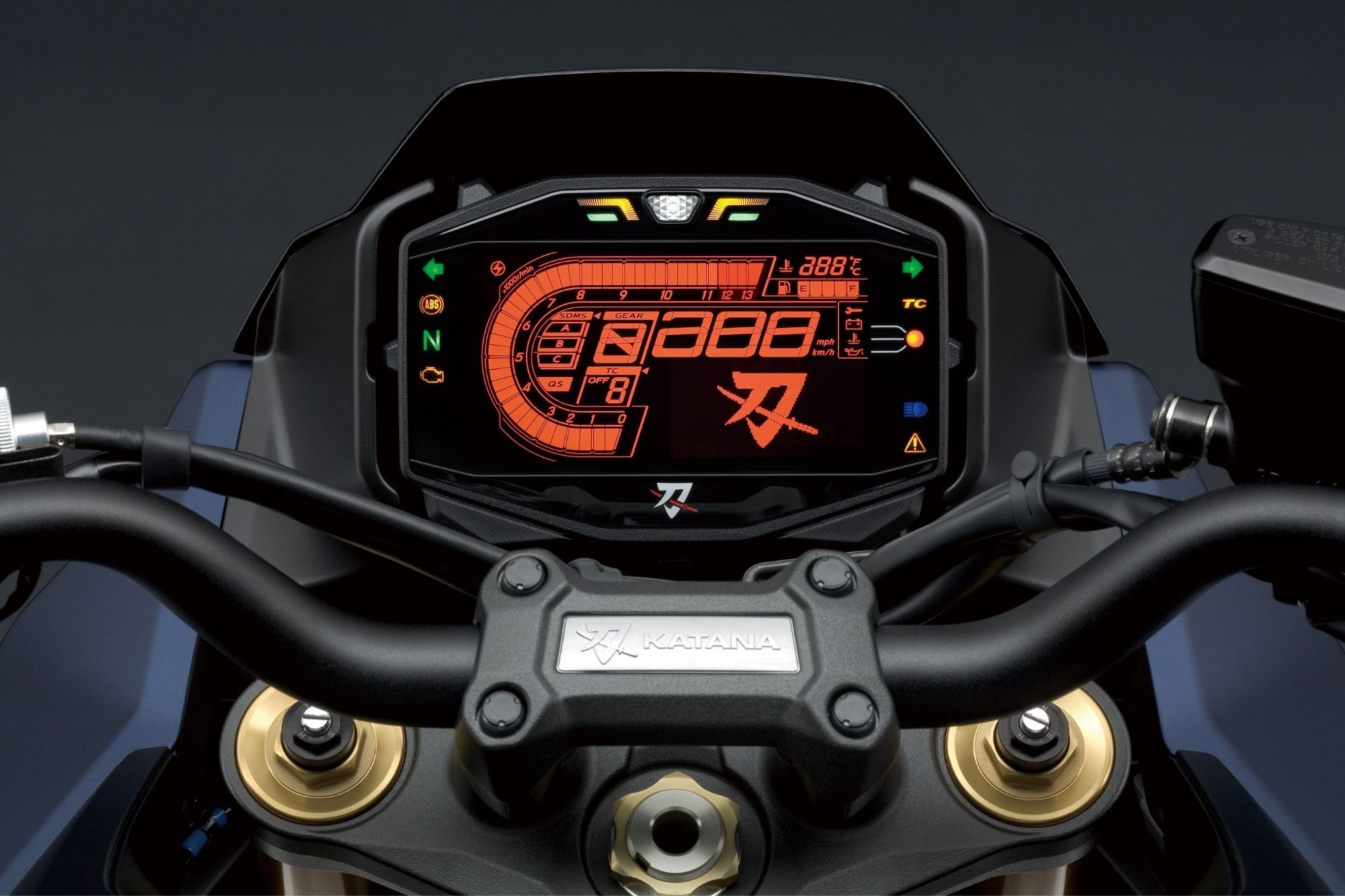 SUZUKI INTELLIGENT RIDE SYSTEM (S.I.R.S.)
Within the collection of the Suzuki Intelligent Ride Systems, Suzuki introduces a number of new features and enhancements to Katana's electronics.
SIRS enables the rider to optimize performance characteristics to match their level of confidence and experience and to best suit specific riding conditions and varying road surfaces. The respective systems that comprise S.I.R.S. assist the rider by helping make the bike more controllable, more predictable, and less tiring to operate, whether out for a sporty run or enjoying a ride on city streets. This benefits the rider by instilling greater confidence and allowing them to concentrate on enjoying the riding experience.
Katana has the following SIRS features:
Suzuki Drive Mode Selector (SDMS) – NEW!
Suzuki Traction Control System (STCS) – UPDATE!
Ride-by-wire Electronic Throttle – NEW!
Bi-directional Quick Shift – NEW!
Easy Start
Low RPM Assist update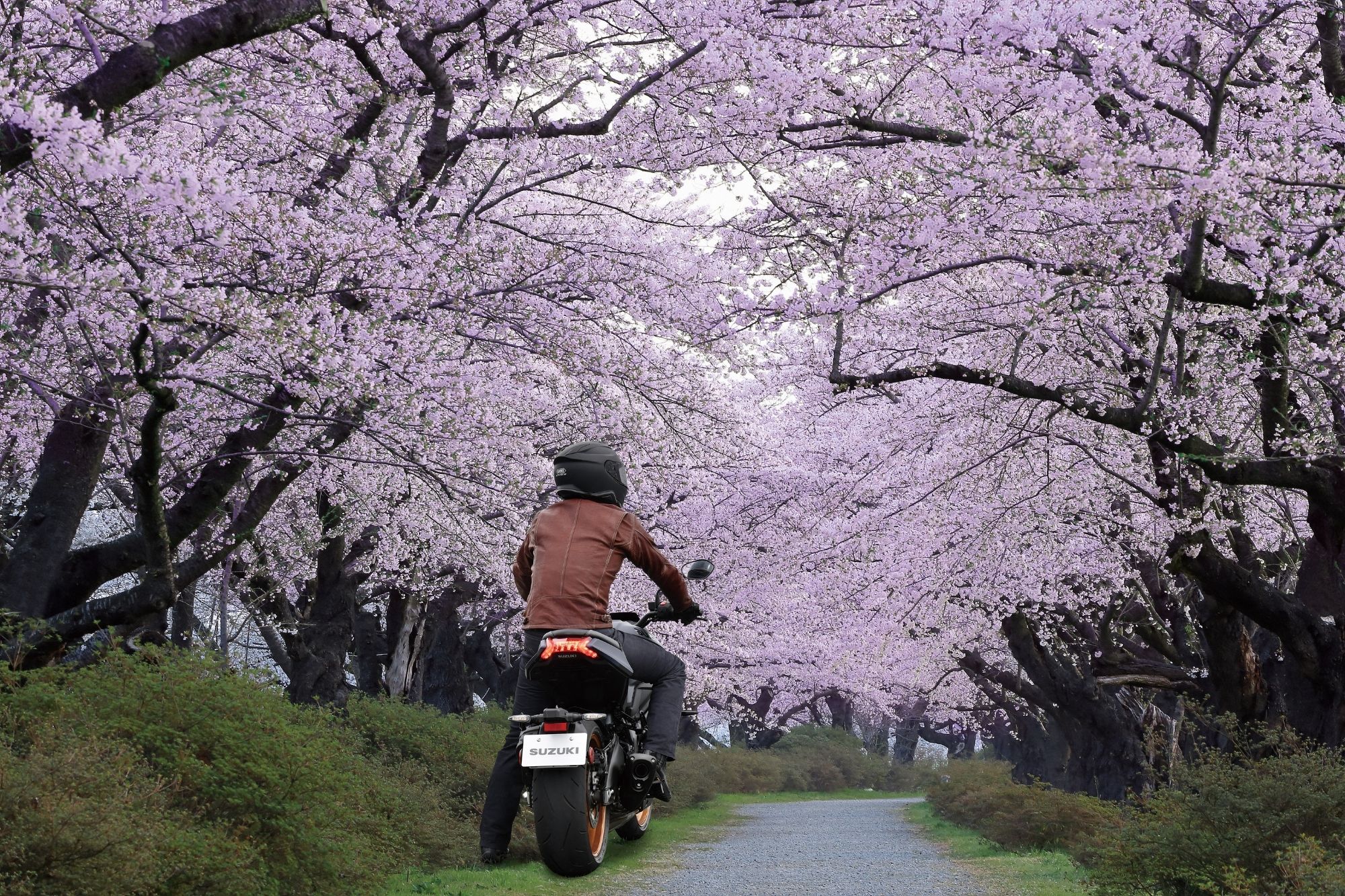 LOW RPM ASSIST
This updated system employs TI-ISC (Throttle-body Integrated Idle Speed Control) to seamlessly boost engine speed when releasing the clutch lever to launch from a standing start or riding at low speeds, thereby suppressing engine stalls and helping ensure better control and operation in stop-and-go traffic. It works in harmony with the Suzuki Clutch Assist System (SCAS) to make pulling away form a standing start even smoother and easier.